Glycerosomes are vesicular microstructures consisting of phospholipids and water – therefore totally non-toxic and biocompatible – which have the ability to act as a vehicle for the active agents present in a topical formulation.
The role played by Glycerosomal vesicles is above all to protect (for example from photo-degradation) and promote the permeation of active agents to the deeper skin layers, where the active ingredient is most useful and can better perform its activity. This action joins the other important role of the glycerosomal system, specifically supporting the preparation of topical formulations, unconventional, in the form of vesicular dispersions in hydrophilic gels, free of greasy substances and excipients such as surfactants and co-emulsifiers typically present in conventional emulsions.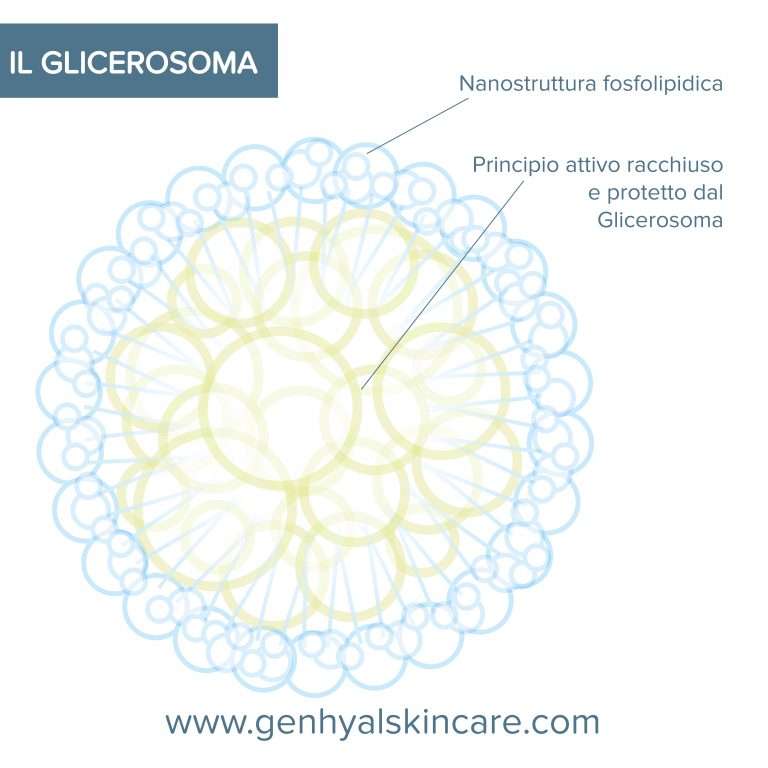 How glycerosomial technology works?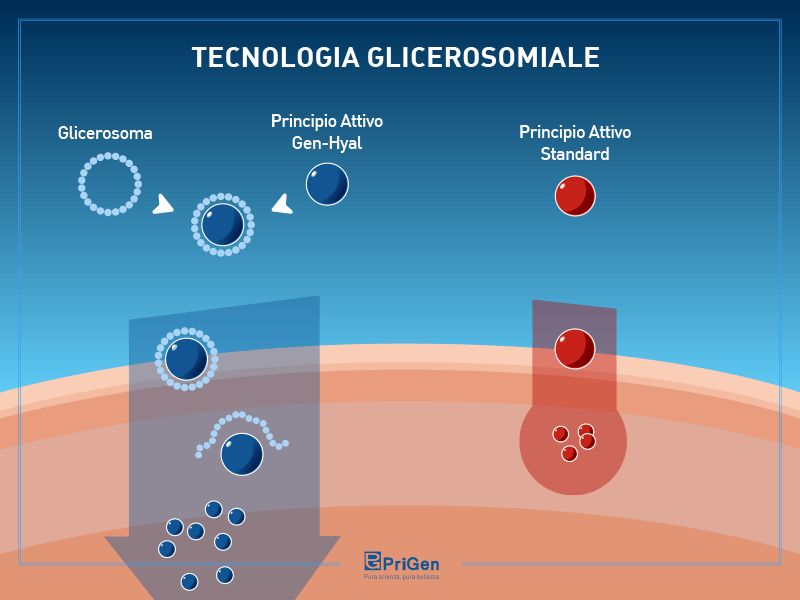 The Glycerosmial Technology patented by Prigen is a liposome-like technology capable of increasing the effectiveness of the active ingredients from 3 to 5 times compared to normal formulations. In fact, this technology works as a BOOSTER, a vehicle, which makes it possible to make the action of the active ingredients on the skin more efficient. The Glycerosome is composed only of bicompatible ingredients such as lecithin and glycerol, improving the formula without weighing it down.
Glycerosomes: a new tool for effective dermal and transdermal drug delivery. Manca M.L. et al. Int. J. Pharma. 2013 Oct 15; 455 (1-2): 66-74.
Glycosomal Technology is contained in some of the Gen-Hyal formulations that are particularly appreciated for their performance:
Gen-Hyal Extreme: highly performing serum enriched by active ingredients with a soothing and repairing effect.
Gen-Hyal Urban Serum: with detox and anti-aging activities.
Gen-Hyal Eyes: eye contour serum with anti-aging, moisturizing and draining active ingredients.
Three true never again without for a complete and effective skin-routine. What are you waiting for to try them out?