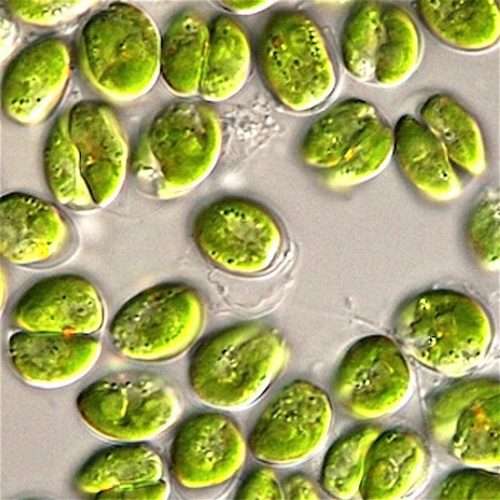 Tetraselmis Suecica microalga is a natural antioxidant capable of stimulating cellular repair and reducing oxidative stress.
It is known that fruits and other vegetables are rich in beneficial substances such as carotenoids and polyphenols which have a natural antioxidant and protective action. Marine microalgae are also rich in beneficial products with protective function but have many advantages over terrestrial plants. These small organisms, in fact, represent a renewable and sustainable source for the production of compounds useful for human well-being as food supplements and for skin protection as functional cosmetics. Their use is sustainable because they do not need large spaces to grow and their collection does not impoverish the environment. Furthermore, having evolved in different, often extreme environments, they have developed a diversity of compounds greater than the ones on Earth and often with more powerful effects. Another advantage is the possibility of growing them on a large scale, using photobioreactors that allow to use controlled growth conditions and to obtain a high quantity of them. To grow, as for all plant organisms, they only need (sea) water, mineral salts, such as nitrogen and phosphorus, and carbon dioxide, thus helping to counteract the increase of this greenhouse gas.
The micro-alga Tetraselmis Suecica is a green alga that was first isolated in the North Atlantic Sea, along the coast of England but it is widespread in all seas. It is an alga rich in vitamin E and other beneficial substances, especially carotenoids. Researchers from SZN / BioSearch have discovered that the mother tincture obtained from this alga not only has antioxidant properties but has the effect of stimulating the repair of cells damaged by oxidative stress.
A curiosity: this alga has small flagella and it is able to move quickly in search of optimal light conditions.
Tetraselmis Suecica is therefore a green marine micro-alga rich in vitamin E, carotenoids, chlorophyll and tocopherols, with anti-inflammatory and regenerative properties. The extract is used in cosmetics for its antioxidant, soothing, regenerative and tissue repair activities. Recent studies conducted by Biosearch at the "Anton Dohrn" Zoological Station in Naples, have in fact shown that the use of micro-alga is effective in determining an intense acceleration of tissue repair processes, stimulating chemotaxis and fibroblastic maturation.
On human epidermal tissues treated with irritants, a recovery of cell viability with complete tissue repair was found. The extract also induces a reduction in the release of pro-inflammatory factors with simultaneous inhibition of the release process of prostaglandins E2 in the serum (Sansone C., Galasso C., et al. The green microalga Tetraselmis suecica reduces oxidative stress and induces repairing mechanisms in human cells.).
From the collaboration between Prigen's Gen-Hyal researchers and the team of Biosearch scientists expert in marine biotechnology, a series of innovative and highly performing products based on Tetraselmis Suecica micro-algae extract has been developed.
---
Visit our e-shop for a complete overview of Tetraselmis suecica based products.